What is this?
The Universal / FL3XX Integration allows FL3XX customers to push mission details to Universal to facilitate services.
How can I do this?
First, all users will need a uvGO login. Please contact Universal's Customer Care Center on this if needed.
Next, FL3XX Support will need to configure your FL3XX account. Please contact FL3XX Support to enable the Universal integration. Please review the FL3XX knowledgebase article for more information, instructions, and other helpful tips.
How does it work?

IMPORTANT: Changes sent to Universal Team will be visible in uvGO after the details have been processed by your team. A temporary banner will be displayed at the top of a mission indicating "Your team is processing changes previously sent. Mission updates will not be visible until changes are complete."
What is sent to Universal?
Operational details such as aircraft registry, FAR part, and mission reference number
Flight details such as departure and arrival airports, dates, times, and en-route time
Passenger details such as manifest assignment and travel information (e.g., passport, name, DOB, address, etc.)
Crew details such as manifest assignment, pilot-in-command (PIC), and travel details
What IS NOT sent to Universal?
Specific service requirements and assignments.

Universal will arrange services per the customer profile on file.
Any specific adjustments to a particular leg or mission must be communicated directly with the Universal Trip Support Team.
So how do I push mission details to Universal?
Universal supports two mission options from within FL3XX:
uvGO Only (No TSS)

This option is used to send the mission details to uvGO ONLY.
Your Universal Trip Support Team WILL NOT receive mission details if this option is used.
This is ideal for self-service flight plans, Feasibility-IQ products, etc.

Universal TSS Team

This option is used to engage your Universal Trip Support Service Team.
Your Universal Team WILL receive mission details to begin arranging services.
Inside uvGO you will see a message showing that your updates are processing as shown below. Once the Universal Trip Support Services team has made the necessary updates to your mission, the message will disappear and you will then be able to see updated mission details and status.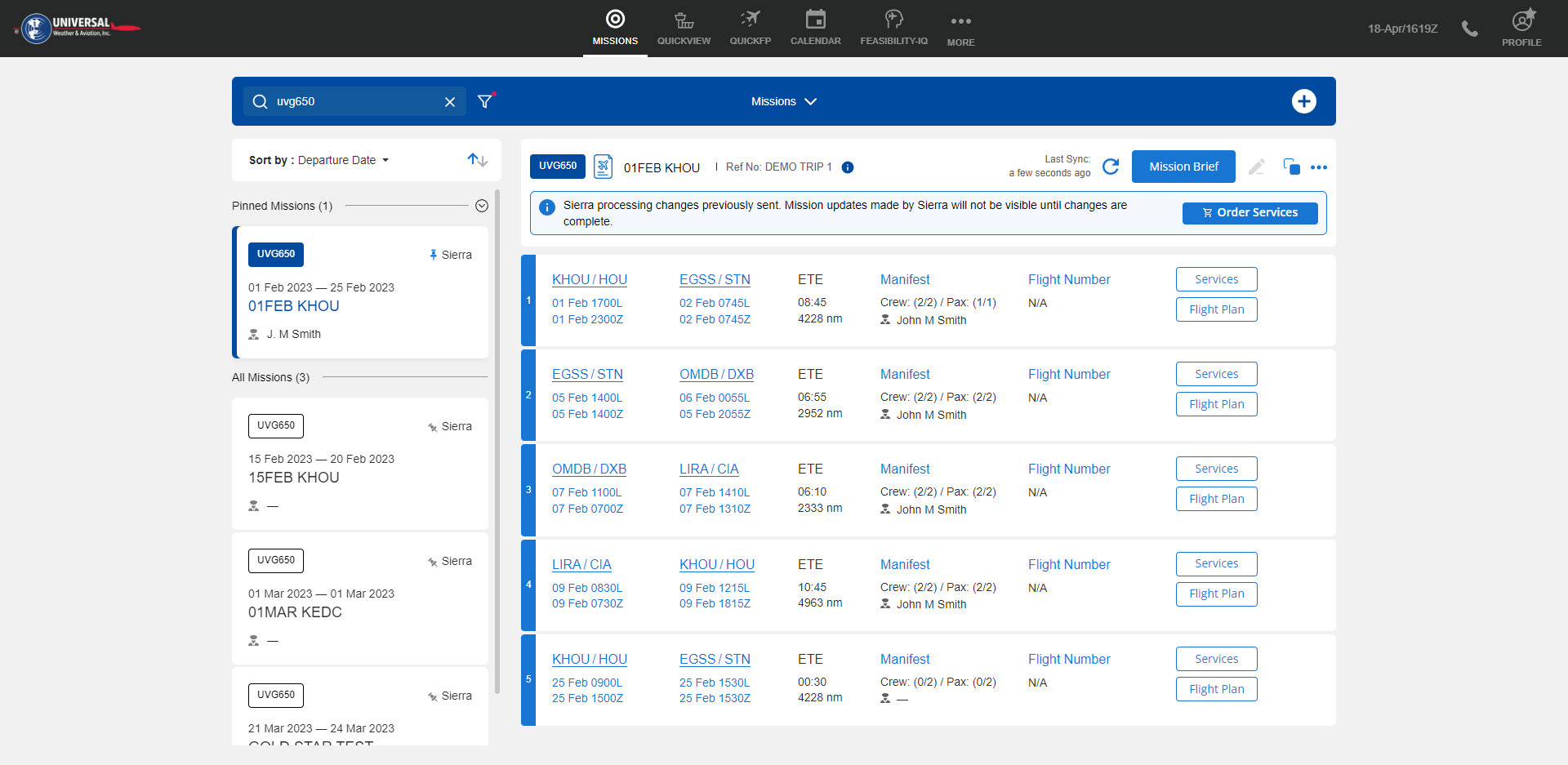 What are the limitations?
For integration to work, a mission must be initiated from FL3XX to Universal. A mission cannot begin at Universal (by phone or email for example) and a connection established with an FL3XX mission afterward.
Who do I contact for support?
What if I get a 503 error in FL3XX?
If you see a 503 Service Unavailable error in the bottom right corner in FL3XX Dispatch after pressing "Send to Universal", you will need to reconnect your uvGO account to re-enable the integration in Settings / Integrations / uvGO. If you don't have access to FL3XX settings, please contact your FL3XX administrator (not FL3XX Support).

How to set up
Choose which uvGO account you would like to link to FL3XX. This account will send an update trips from FL3XX to Universal. Only one account is supported by FL3XX for this integration. Please contact our Customer Care Center if you need or are unable to access your uvGO account.
Next, contact support@fl3xx.com to enable the Universal integration. FL3XX will review your trip support settings and configure them for use with Universal.
Last, you'll connect uvGO in FL3XX Settings / Integrations to link both systems: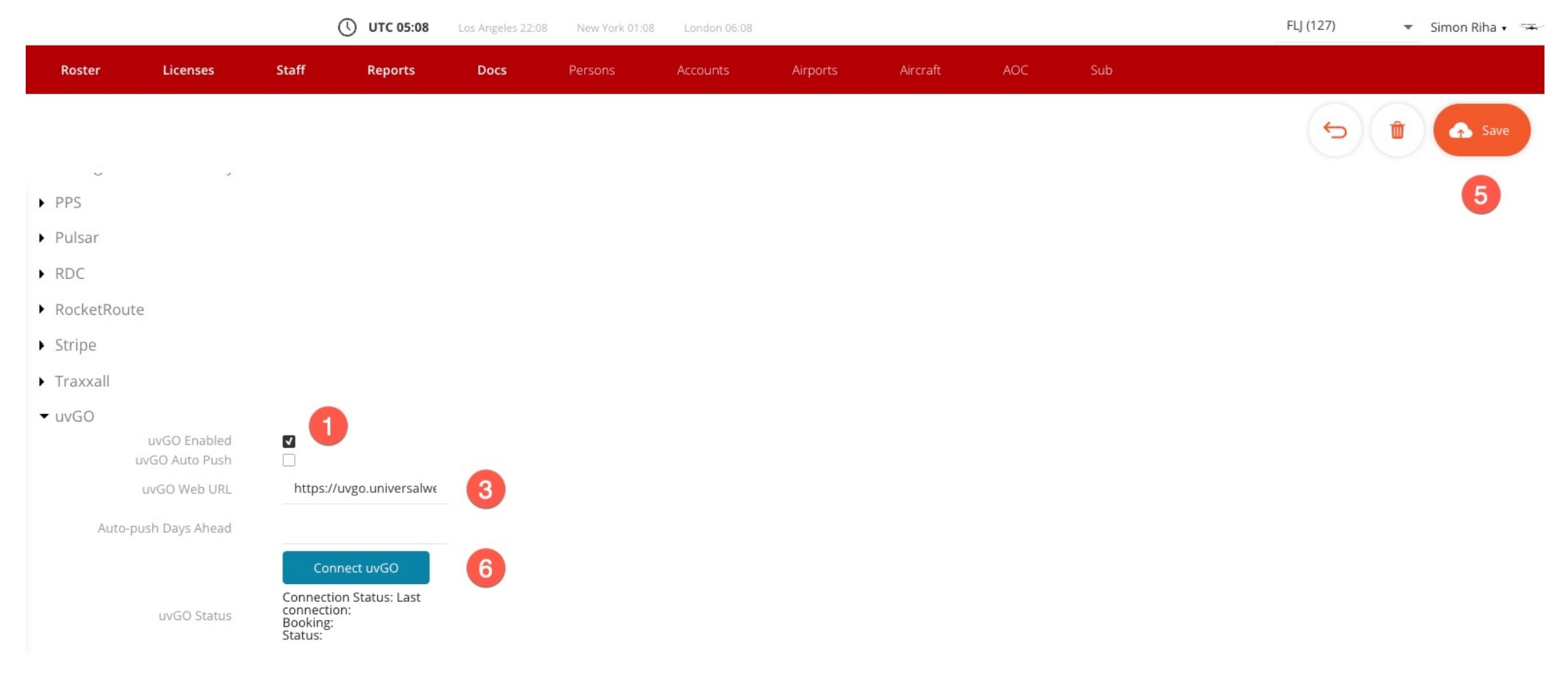 uvGO Enabled: Enable
uvGO Auto Push: Do NOT enable. Do NOT use.
uvGO Web URL: https://uvgo.universalweather.com
Auto-push Days Ahead: Do NOT use. Leave this empty.
Save your settings by pressing the Save button in the upper right corner.
Now, you can press the Connect uvGO button
A Universal sign-in page will appear. Follow the process to link both systems.